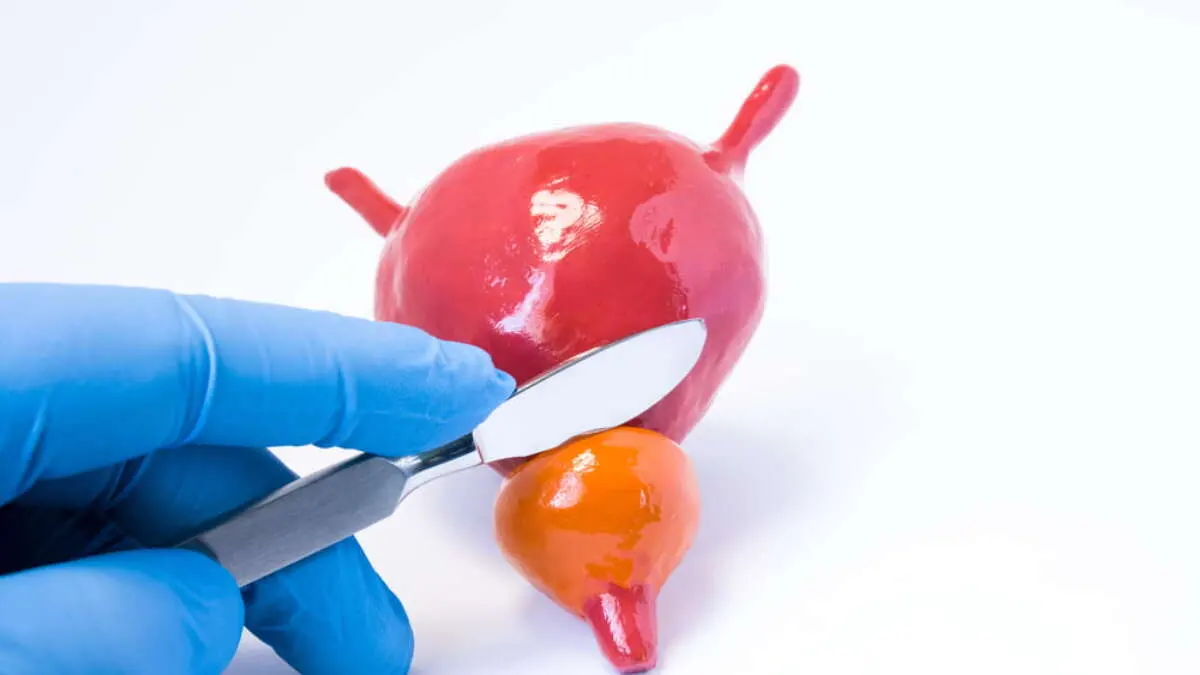 The Benign prostatic enlargement is the most benign tumor that affects men in age beyond the age of forty, it is not dangerous for life, but its symptoms in the lower urinary tract hinder daily life. The cause of enlargement in aging is hormonal changes, and at the same time recent studies have shown that the increase in the body's susceptibility and readiness to the genetic pathological mutations in these cells that lead first to benign enlargement and then cancer due to the high rate of environmental and food contamination.
The obesity paradox is at the center of investigations regarding the role of human metabolism and body composition in prostate cancer outcomes. In some studies, obesity (BMI > OR = 25kg/㎡) increase the risk for high grade prostate cancer as well as recurrence after prostatectomy. Multiple studies have shown an association between clinical prostatitis and an increased risk of prostate cancer.
BPH is likely a multifactorial process, the exact etiology of which is unknown, but requires testosterone. 5a-reductase (5AR), with its two isoenzymes – type I and type II, converts testosterone to its active metabolite, dihydrotestosterone (DHT). DHT, which has a higher affinity for the androgen receptor and is considered the more potent androgenic steroid hormone, forms a complex that is then transported to the nucleus. The T/DHT-androgen receptor complex within the nucleus of the prostate cells initiates transcription of DNA and translation, with subsequent normal development, growth, and hyperplasia of the prostate. BPH develops due to an imbalance between growth and apoptosis (cellular death) in favour of growth, subsequently causing an increase in cellular mass [1,2].
Also Read:Ureaplasma acute and chronic infection of the bladder in women and prostate in men
BPH is nearly ubiquitous in the aging male with increases starting at age 40-45 years, reaching 60% by age 60, and 80% by age 80. BPH can lead to benign prostatic enlargement (BPE), which can cause obstruction at the level of the bladder neck, termed benign prostatic obstruction (BPO). The prevalence of moderate-to-severe LUTS rose to nearly 50% by age 80, nearly 50% by age 80, with the development of acute urinary retention (AUR). Another study has estimated that 90% of men between 45 and 80 years of age suffer some type of LUTS [3,4,5].
The diagnostic evaluation includes medical history, symptom score questionnaires as the international prostate symptom score (IPSS), physical examination and digital-rectal examination and prostate size evaluation with transrectal ultrasound, urinalysis (dipstick or sediment) which must be included in the primary evaluation of any patient presenting with LUTS to identify conditions, such as urinary tract infections (UTI), microhaematuria and diabetes mellitus.
Early diagnosis through PSA testing (normal level below 4 ng/ml) may reduce prostate cancer deaths (6). PSA density (PSAD) below 0.15mg/ml/ml was considered as negative predictive factors for prostate cancer, so the right diagnosis of Prostate cancer increased by 94.1% to omit prostate biopsy (7).
Clinical examination is carried out using modern diagnostic methods, the most important of which is the examination of the prostate gland in its size and shape, as well as the bladder and urethra by ultrasound, as well as examination of the urodynamics of the urinary stream (Uroflowmetry).
The most prevalent and generally first line approach is behavioural and lifestyle modifications followed by medical therapy, including alpha-adrenergic antagonists (alpha blockers), 5-alpha reductase inhibitors (5ARIS), and phosphodiesterase 5 selective inhibitors (PDE5S), anticholinergics, and beta-3 agonists which may be utilized alone, or in combination to take advantage of their different mechanisms of action. If these men with advanced age and those with advanced stages of this enlargement are not treated, then the gold standard for treating these stages is their eradication by the plasmapheresis of the two poles TUR-Prostate.
REFERENCES:
(1): Andriole G, Bruchovsky N, Chung Let al: Dihy- drotestosterone and the prostate: the scientific rationale for 5alpha-reductase inhibitors in the treatment of benign prostatic hyperplasia. J Urol 2004; 172: 1399.
(2): Russell D and Wilson J: Steroid 5alpha- reductase: two genes/two enzymes. Annu Rev Biochem 1994; 63: 25.
(3): Reynard J: Does anticholinergic medication have a role for men with lower urinary tract symptoms/benign prostatic hyperplesia either alone or in combination with other agents? Curr Opin Urol 2004; 14: 13.
(4): McVary K: BPH: Epidemiology and Comorbidities. An J Manag Care 12 2006: (5 Suppl): S122.
(5): Wei J. Calhoun E and Jacobsen S: Urologic diseases in America project: benign prostatic hyperplasia. J Uro! 2005; 173: 1256.
(6): Stamey, T.A., et al. Prostate-specific antigen as a serum marker for adenocarcinoma of the prostate. N Engl J Med, 1987. 317:909.
(7): Schmid, H.P., et al. Observations on the doubling time of prostate cancer. The use of serial prostate-specific antigen in patients with untreated disease as a measure of increasing cancer volume. Cancer, 1993 71:2031
Author Correspondence:
Prof. Dr. Semir A. Salim
Medical Director of Professor Al Samarrai Medical Center.
Dubai Healthcare City, Al-Razi Building 64, Block D, 2nd Floor, Suite 2018
E-mail: semiralsamarrai@hotmail.com
Tel: +97144233669